Spring PTO Concert
April 1st, 2003
Featuring Kindergarten, 2nd grade, and 4th grade students.
Including songs from around the world, chosen from Silver Burdett Making Music, 2002 edition. Script and choreography by Meredith H. Inserra. Costumes, props, and scenery designed and created by parent volunteers.
Mrs. Fagan, Bangert Airlines flight attendant,
welcomes passengers as they come into the terminal
Your MC and principal, Mr. Blount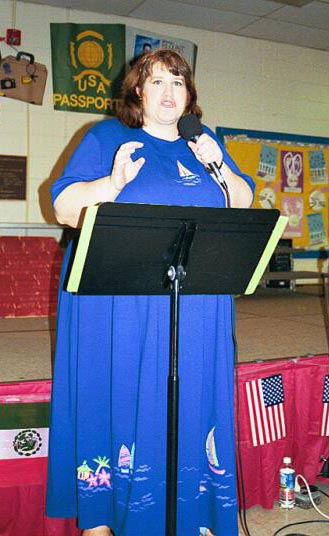 Your director, Meredith Inserra (a. k. a. "Miss Harley" the Music Teacher)
Welcome to Bangert Airlines. We're your flight attendants.
4th graders sing 2 songs from Africa
Sammy, the Mexican Storyteller, tells the tale of Don Gato.
There was not a sweeter kitty (meow, meow, meow) in the country or the city.
Oh, Don Gato jumped so happily, he fell off the roof and broke his knee...
Well, the doctors all came on the run...
Oh, it wasn't very merry, (meow, meow, meow) going to the cemetary (meow, meow, meow)
Backstage with the glamour kitty, "No autographs, please."