Explore the science of SOUND and MUSIC at this web site sponsored by the National Science Foundation.
Have fun with musical games and activities.
This site is hosted by the BBC.
Check out music around the world with these cool links:
National Geographic world music:
Music of Bolivia:
Folk Music of England, Scotland, Ireland, Wales, and America:
Check back to see what other world music links are added.
Create your own cool rhythm patterns with this interactive site from PBS.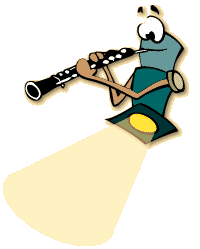 This next link is
Arts Alive from the National Arts Center
in Canada. It's loaded with fun links. You can play games. You can hear and see instrument players talk about their instruments and demonstrate them for you. You can find out about great composers. You can see and hear different instruments in an interactive guide to the orchestra.
From across the Atlantic comes 15 music games from BBC Radio 3 in the United Kingdom. One of these is the interactive listening game where you can zap the trolls and help Peer Gynt escape! I have played most of the games on this site and can recommend them for both learning and fun. You can make your own music, play with famous music, and play music from other countries, to name to few. Plus, you can even click on the Listen Live link at the top and hear what's on the radio, right now, in Britain! It is a small world, isn't it?

Check out Jazz Kids, sponsored by PBS Kids. Read about famous people in jazz and how jazz got started in the United States. Meet a jazz band of animals and hear the instruments they play. Then stop by Improvisation Station to try making jazz music yourself. Lots of fun! You may need to install the Beatnik plug-in to play with Improvisation Station. It takes a little while for Improvisation Station to load, so be patient with download times, espcially if you have a dial-up connection.
From WGUC in Cincinnati, Ohio, comes Classics For Kids. This is a web site where children can play games and listen to music. When you get to the home page, you'll see the links at the side.
This link takes you to a site that has 4 music games. I recommend Notes in Space. You will need to download the game to play it. It's loads of fun and it helps you learn the names of the notes.
Here's another symphony site from the San Francisco Symphony with more games and activities. Try out the Music Lab's activities, including the Composerizor. Hear and see instruments too. There are lots of things you can do. It's a great site that's both fun and interactive.
See and hear instruments from all over the world with this student created site.
From the brilliant minds at Sesame Street comes this site of fun games and activities for early childhood. There are many subjects, including music.
Write and print your own music with this software, Finale Notepad, from the makers of FINALE, the world standard in music notation software. I have used FINALE for many years and am very pleased to see that they offer this smaller version of it for only $9.95 You can print a beautiful, professional looking copy of your music. It even lets you play back what you're written, so you can hear your creation.

Click on the next link to download a demo copy of the award winning music software called Music Ace. Music Ace I covers mostly melody, pitch, and keyboard skills while Music Ace II covers rhythm and beat. This is the best music instructional software I've seen yet for children, but anyone would find it fun. I hear that high school students and adults love using it too. It's lots of fun and WAY COOL! Since it's a demo, you don't get to try the whole program, but you can try some of it. You get the "Doodle Pad" with the demo too. It's a fun tool to create your own little melodies.

Ever wondered what the state song of Missouri sounds like? Ever wondered what our own state song sounds like? Click below to find the words and music to every state song in the United States!
With Ricci Adams' MusicTheory.net you have the basics of music at your fingertips. Practice naming notes, rhythm durations, meter, time signatures, chords, keyboard skills, and much more. This site is for everyone who wants to practice their music skills at home. Plus, you can print music staff paper in various formats too.
This interactive site is for beginning music students as well as serious musicians. Practice your note reading skills, your piano skills, and other music skills with Java Music Theory. You can set several preferences to make each tutorial as easy or difficult as you like. You can hear each note or turn off the sound.
For more advanced students and parents who want to practice their music skills, try Good Ear. This is a simple, interactive site that lets you test and practice your musical ear training. Listen to and identify musical intervals, chords, cadences, and more. A great challenge!
If you use Microsoft software on your system, you can download any of these templates to create your own staff paper. Write your own music! Click the music below to reach the link.
Now you can download some of the fun songs we sing in class at K8 KidTunes! These are the songs that appear in my teaching resource, MUSIC K-8 magazine. The publishers have set up this site for students to download the songs so they can enjoy them at home. Parents need to set up an account so their children can download the songs at 99 cents each. Click below for more details:
Have fun with Elvis, the King of Rock 'n' Roll at this site made just for kids! Listen to clips of his music, play games, print coloring pages, and learn about Elvis.
Parents may be interested in hearing clips of the singing talents from Josh Groban, whose style crosses boundaries from pop to classical. Receiving his "big break" a few years ago at age 17, his story is particularly inspiring to young people.