Below are a few recipes and ideas I use to eat healthy. Some are things I've come up with myself and others are ideas I've received from other people. The key to my eating plan is PROTEIN! I try to eat my protein first, then follow with minimal carbs, if I have room. Protein keeps you full and satisfied longer, whereas carbs make you hungry later. Here are a few of my favorites: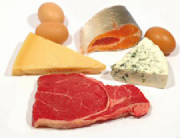 Main Courses
breakfast, lunch, or dinner
Greek Yogurt - a la Meredith!!!
Greek yogurt (plain, 2%)
Benefiber
Splenda
protein powder
fruit
With electric beaters mix first 4 ingredients, add fruit. I usually make a big batch beginning with 2-3 tubs of Fage brand 16.7 oz. tubs. For a big batch I use several tablespoons of Benefiber, LOTS of Splenda (to taste), and about 3 scoops of Unjury brand unflavored protein powder. For fruit I use fresh if it's in season. Berries are best because they're low in carbs compared to other fruits. I find it's best to whiz the berries in a food processor to release the wonderful flavors of the berries. I don't whiz blueberries though. I also like mixing several different fruits. Once the fruit has been whizzed, stir it into the Greek yogurt mixture. If fruit isn't in season, other options are sugar-free jam sweetened with Splenda, sugar-free pie filling, or sugar-free syrups that are usually used to flavor coffee. Another option is using a good quality cocoa powder and sugar-free hazelnut syrup. I eat on this big batch of yogurt for a whole week, usually just for breakfast, but sometimes as a snack. Sometimes I sprinkle Kashi Go Lean or Kashi Go Lean Crunch on top when I eat it.
Lettuce-Wrap Sandwiches
Instead of using tortillas to make sandwich wraps, use leaf lettuce! It cuts down on carbs and calories. I love lettuce and usually use iceberg lettuce because the leaves are big and I love the crisp, but other lettuces would do as long as the leaves are big enough and wide enough to use as wraps.
"Pizza"
tortilla (Mission "Carb Balance" or Flat Out "Light")
spaghetti sauce or pesto sauce
shredded mozzerella cheese
low-fat turkey pepperoni (or ham or whatever meat you like)
optional: chopped bell pepper, onion, or whatever else you like
optional: oregano, chives, basil
Spread foil on a cookie sheet and spray with Pam or spray Pam on a pizza pan. Lay your tortilla on it. Spread your spaghetti or pesto sauce all over the tortilla. Put your favorite toppings on, sprinkle with the shredded cheese. Sprinkle on herbs if desired. Bake in hot 400-degree oven until cheese is bubbly and a little browned. It doesn't take long!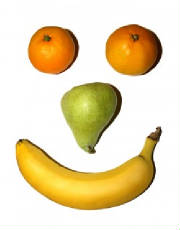 Snacks and Desserts
cheese sticks
sugar-free jello
cheese on low-fat crackers
peanut butter on low-fat crackers
sugar-free popsicles
sugar-free fudgesicles
yogurt
sugar-free chocolate (beware of the Maltitol sweetener!!)
nuts
Fruit Protein Fluff
17 oz tub Greek yogurt (I used Fage brand 2%)
1 pkg SF pudding mix (vanilla or cheesecake flavor)
1/2 cup Splenda (or more to taste, depending on how sweet fruit is)
1 scoop unflavored whey protein powder (you could use a bit more if you'd like)
fruit (I used 4 fresh peaches, cut into small pieces, sprinkled with Fruit Fresh)
1 tub SF Cool Whip

Beverages
I stay away from liquid calories. They don't keep me full because they go right through my little tummy. I also stay away from anything carbonated because the bubbles expand when they get into your tummy. This could be painful for me and could stretch out my little tummy. So, no juices, no protein shakes, no Diet Coke, no smoothies. So, here's what I drink:
WATER
Crystal Light
coffee
tea
Fruit-2-0