Here they are. My sweet babies. They are all boys and all neutered.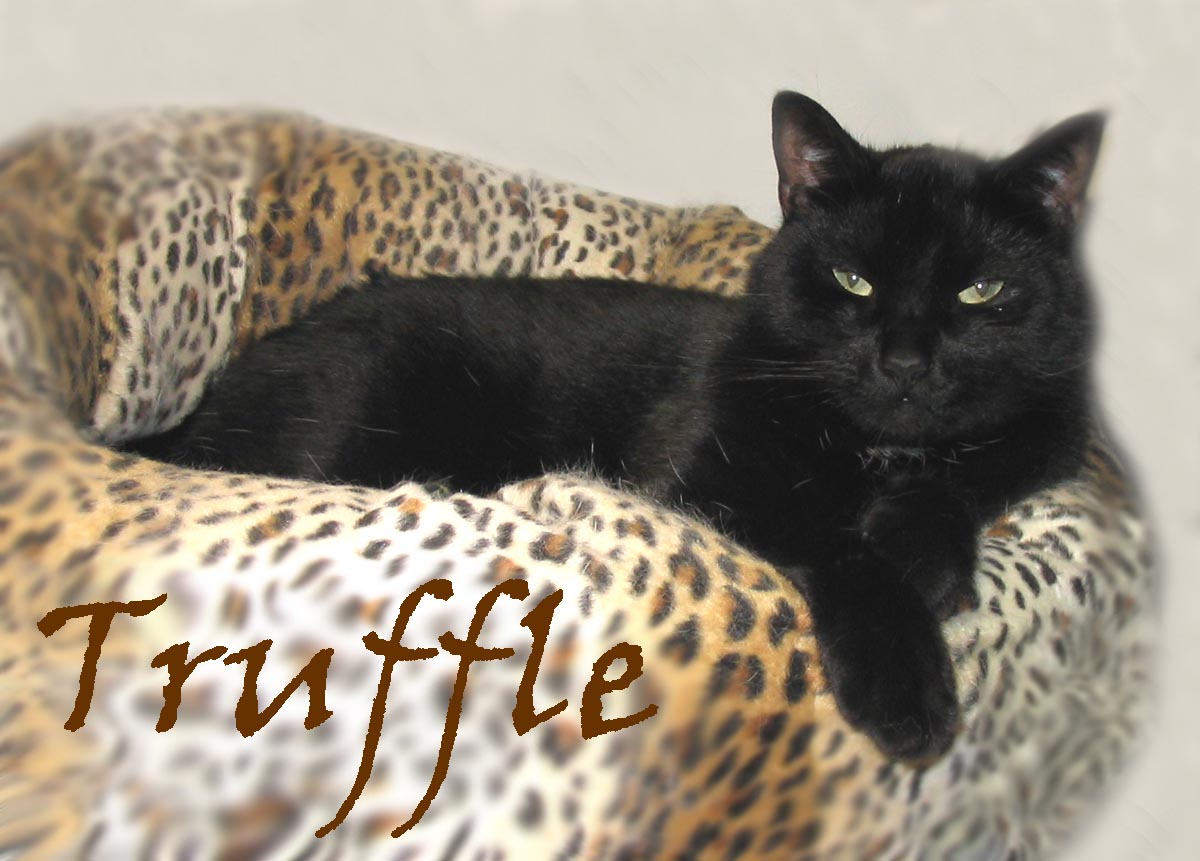 Truffle likes to play fetch. He's such a hoot!
Truffle, Christmas 2004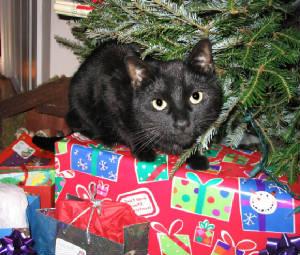 "This big one if for me, right?"
Truffle perched high atop the cabinets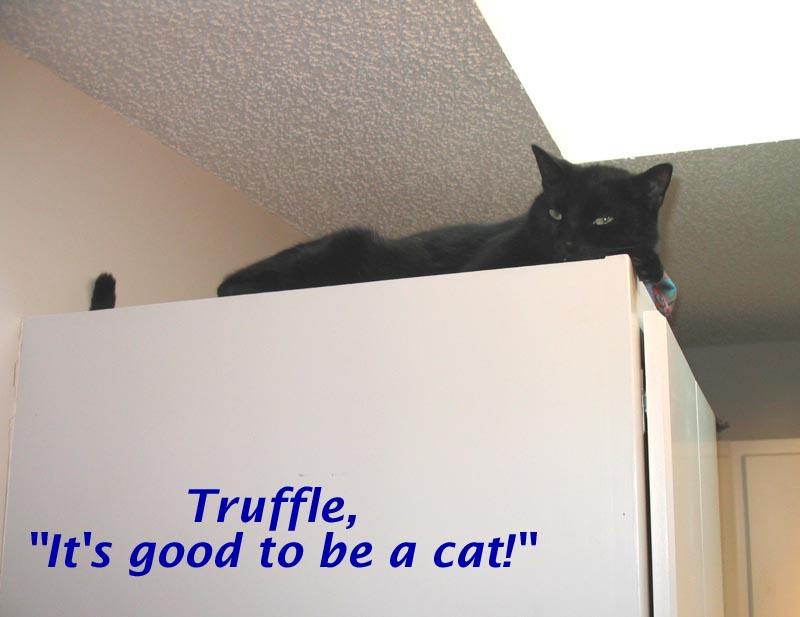 Basking in the sun from the skylight above, supervising my activities
Truffle is my only outdoor kitty. He used to be an indoor kitty, like the others, but he was urinating all over the house. We tried several interventions, directed by our vet, but nothing worked. So, he is now enjoying the great outdoors. He is quite the king of his domain and he rules our big (500 sq ft) porch and deck as well as our huge yard.
Truffle's hobbies include:
-playing fetch
-getting lots of attention
-being scared of any stranger that comes to the house
-enjoying the water in the fountain
Frosty, alpha cat, large and in charge (20 lbs)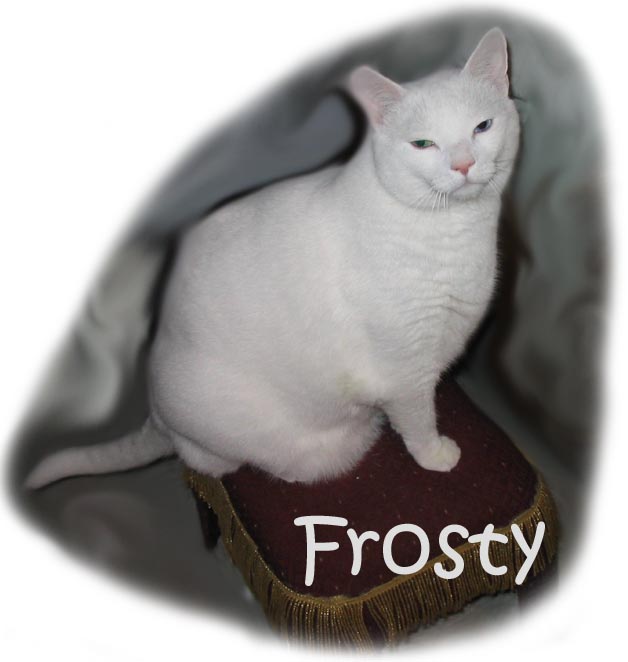 Note that his eyes are different colors. He looks sleepy here. Always ready for a nap!!
Frosty is the king!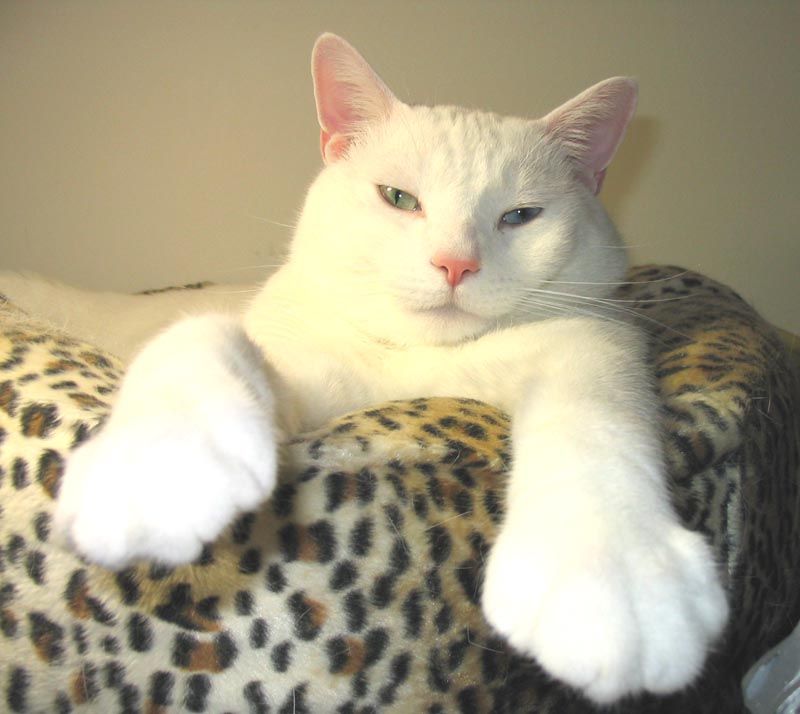 Frosty is my giant lounge lizard!
Classic Frosty
Always looking for new ways to get comfortable
Frosty reclining in my warm lap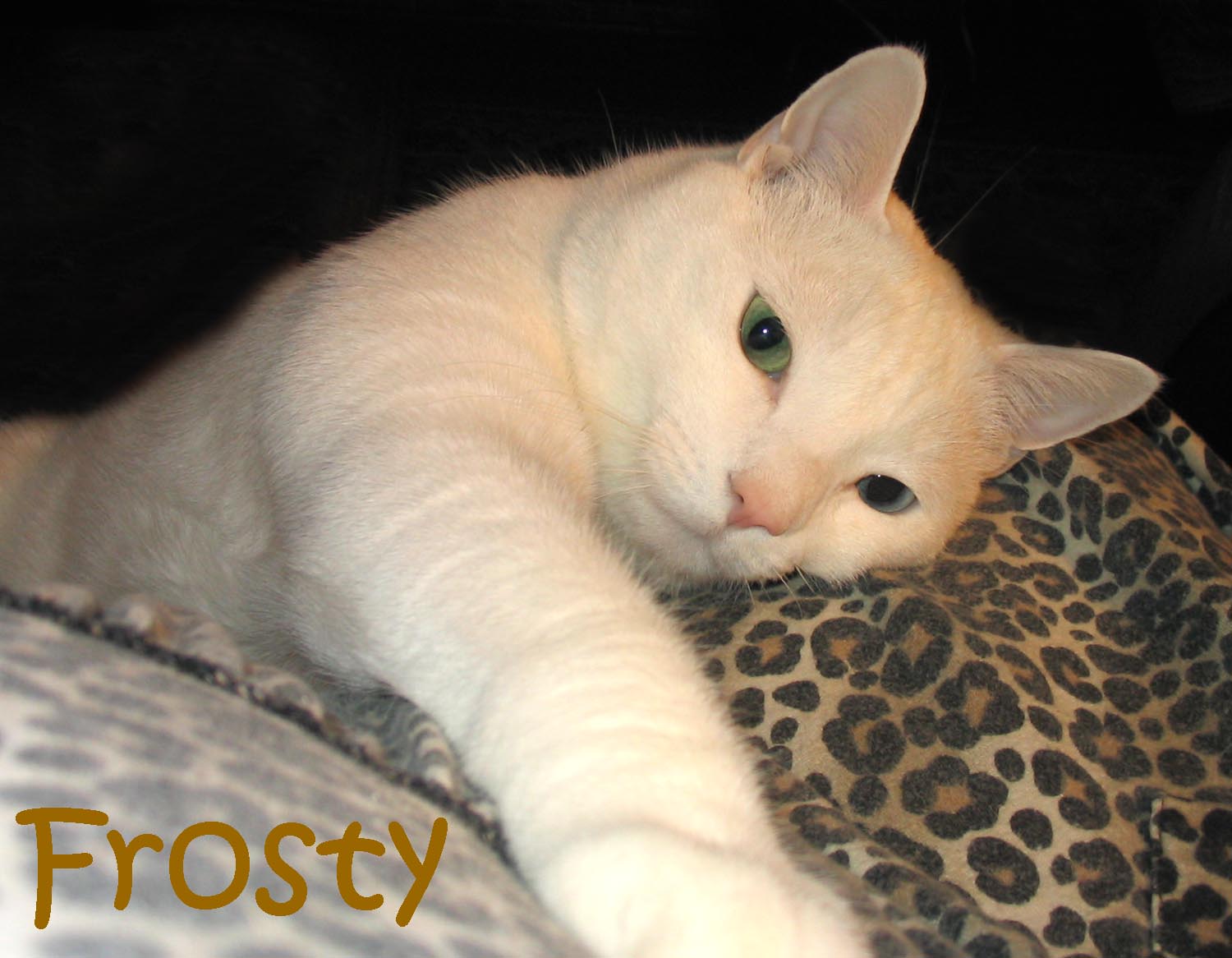 He's reaching for the dangling camera strap
Frosty looking like a king! (2004)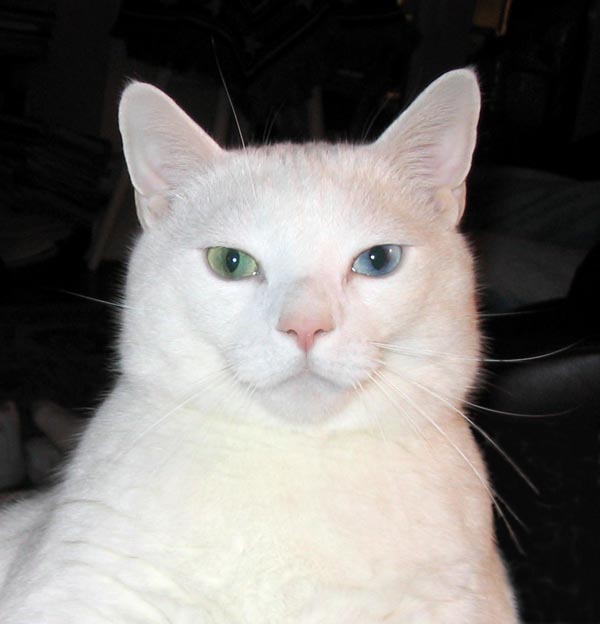 Frosty likes to pose for the camera!
Frosty's hobbies include:
-playing "monster under the covers"
-pushing pens and pencils under the rug in the den
-eating
-standing at the sliding glass door whining to go out to the porch to lounge
Named after Scotland's national food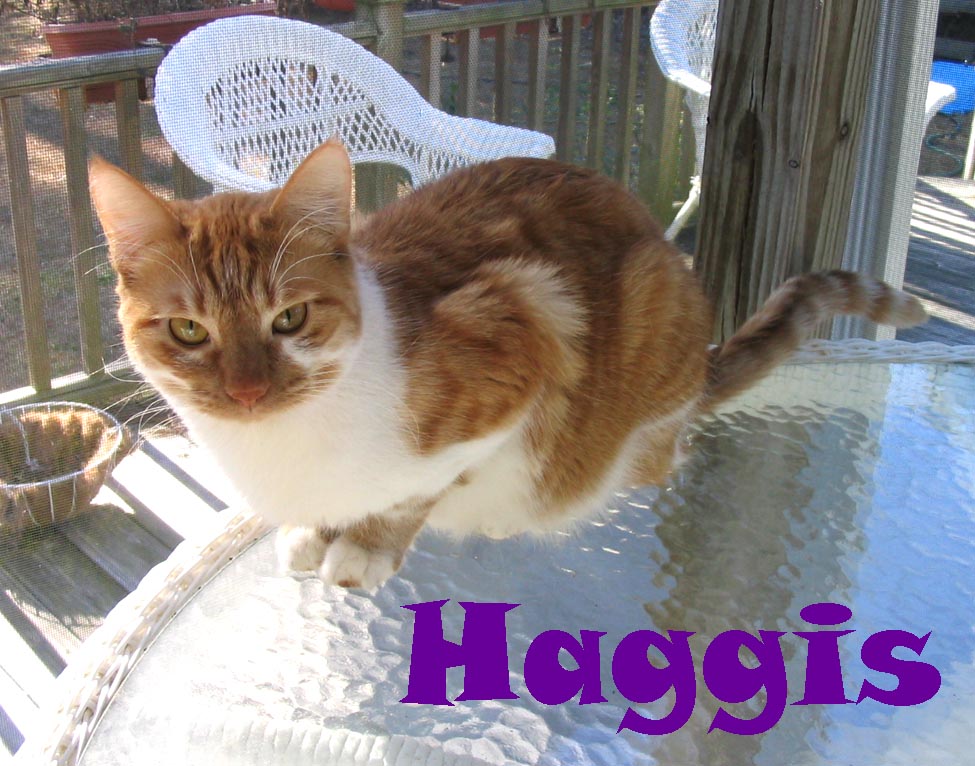 Very affectionate. Haggis is daddy's boy. He loves my husband. He is Gunny's brother.
Haggis's hobbies include:
-jumping on the kitchen counter to find tidbits (he's a food pirate)
-sitting in my husband's lap
-helping to make the bed
-wrestling with his brother, Gunny
Gunny loves to talk! He's very expressive!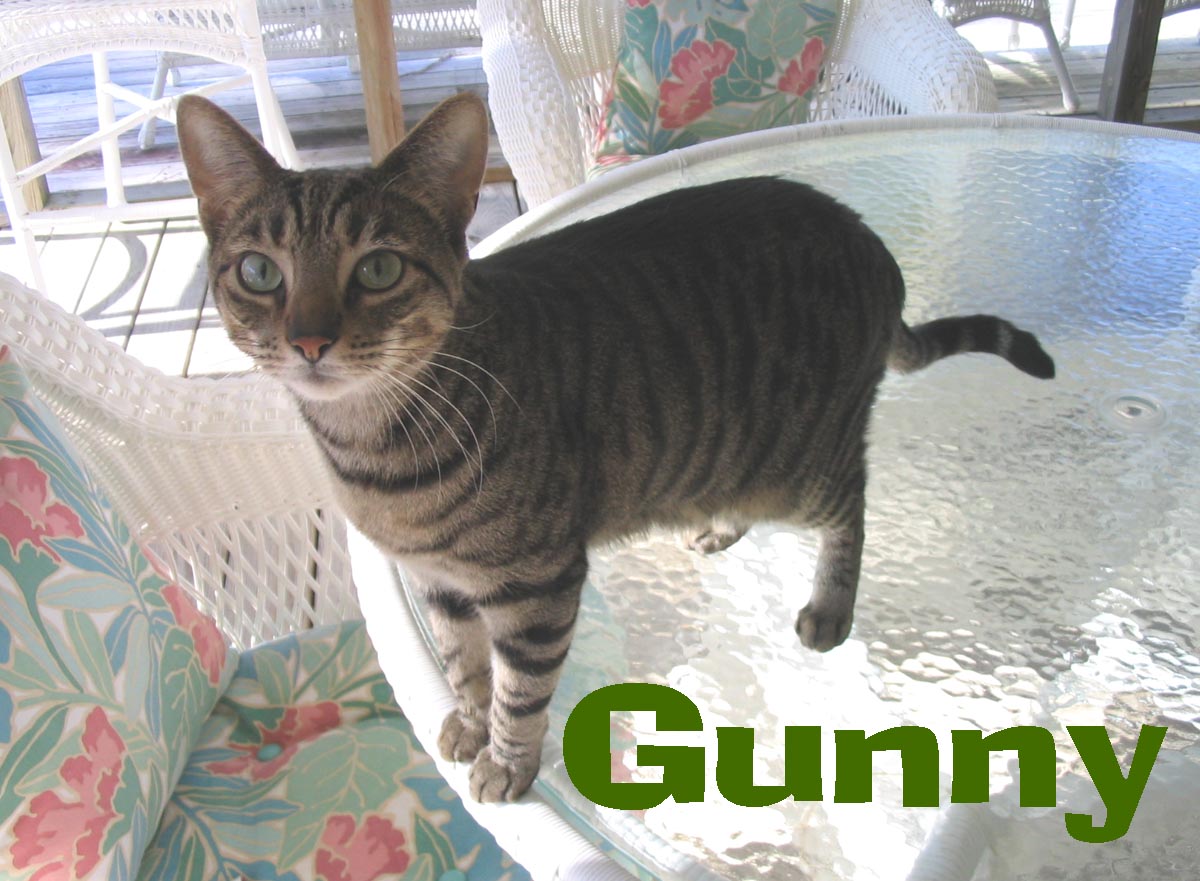 Gunny is my lap baby and he loves to lick my ice cream bowl!
Gunny, Christmas 2004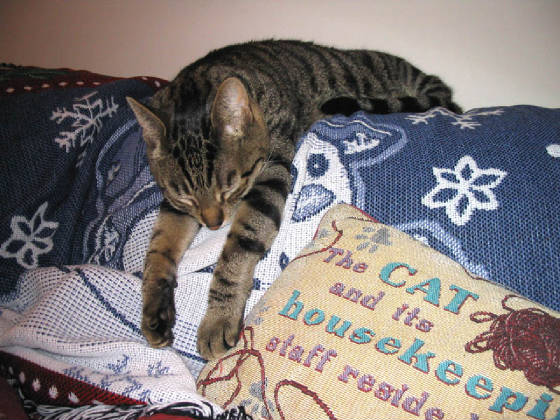 Gunny just finished all his Christmas shopping. He thought he'd never get out of WalMart!
What is it with cats and luggage?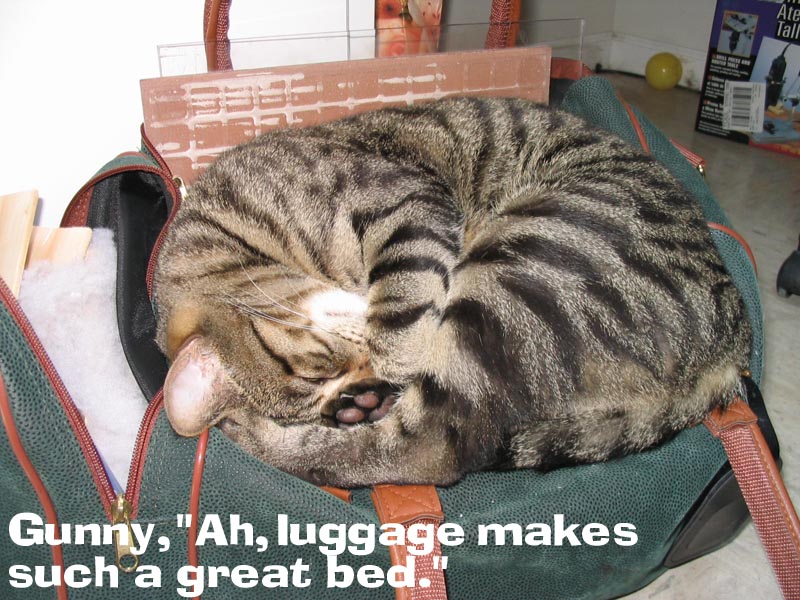 Gunny is nestled on top of my bag of claying supplies. Could he be dreaming of claying?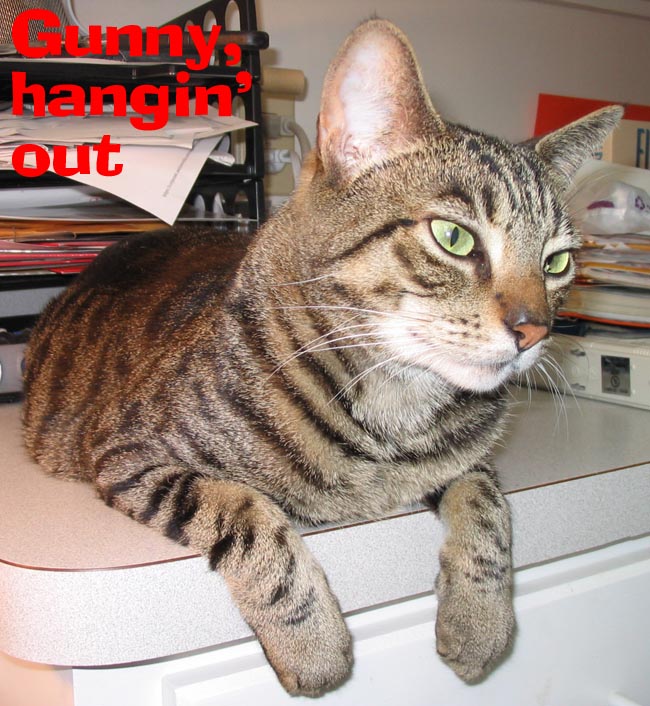 Gunny is supervising activities in my studio
Gunny's hobbies include:
-talking, sometimes whining
-greeting all strangers who come to visit, then whining to them
-licking ice cream bowls
-wrestling with Haggis
-sitting in my lap
Here's our baby. He's the youngest.
His fur is super soft and silky. Note how his face is rounder than Gunny's.
Sarge had to be put to sleep February 12, 2007. He was only 6 years old. He'd been suffering from chronic bladder problems and was in pain. The vet tried operating, but discovered his bladder wall was stiff and quite likely cancerous as well. With no promising treatment options, we decided it was best not to wake him up from his surgery.
Sarge's hobbies included:
-sleeping on top of the cabinets in the office during the day
-racing me to the bedroom at night and sleeping on the bed with me
-pouncing at the covers on the bed as if there's something under there (see Frosty-"monster under the covers")
-annoying his older "brothers"
-whining to me for attention while I'm working at my desk
This is Amadeus who is 19 years old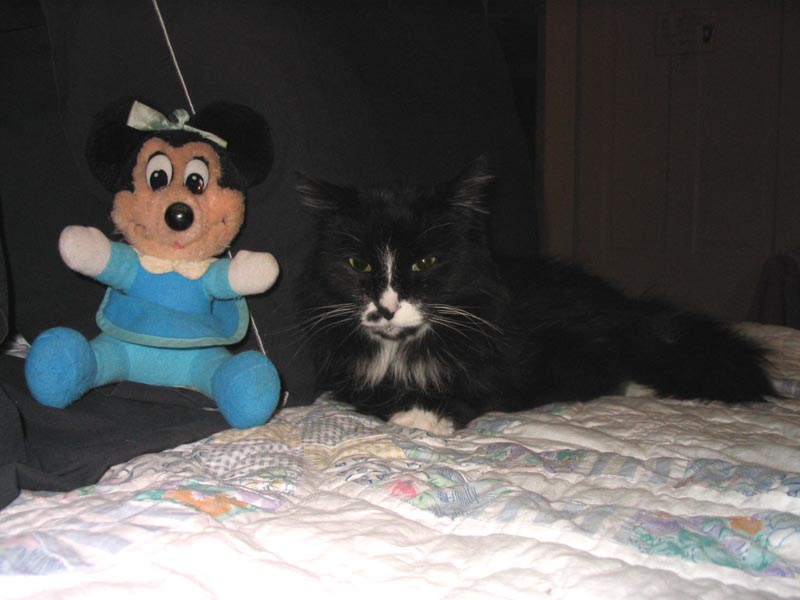 Amadeus is pictured here with her favorite toy. She is battling kidney disease right now.
Amadeus was born in North Augusta in 1985. My sister adopted her when I moved to Scotland and couldn't bear to part with her when I returned. So she has lived most of her adult life with my sister. At the ripe old age of 19, Amadeus' health has deteriorated. Her weight bottomed out at only 4.31 pounds due to her various illnesses. Although she does eat, she eats very little. The vet assures us her condition is now causing her pain and it's time to let her go. So, we said goodbye to her on Tuesday, Nov. 2, 2004. She was a very sweet, sociable, loving, and staunchly loyal kitty.
"Mama" is feeling so much better, Feb 7, 2004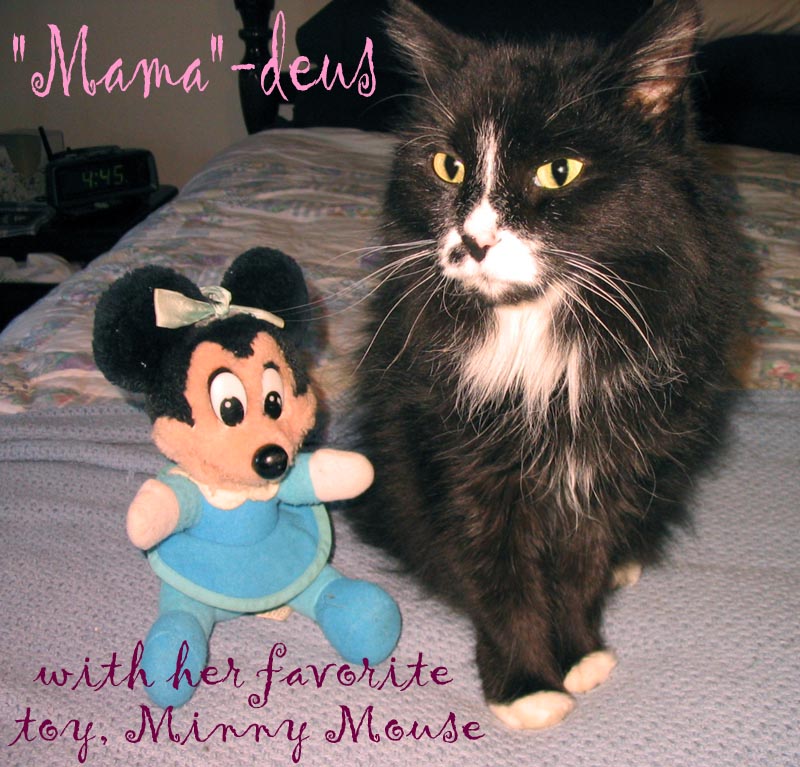 She is so much more alert and responsive here
Feb 7, 2004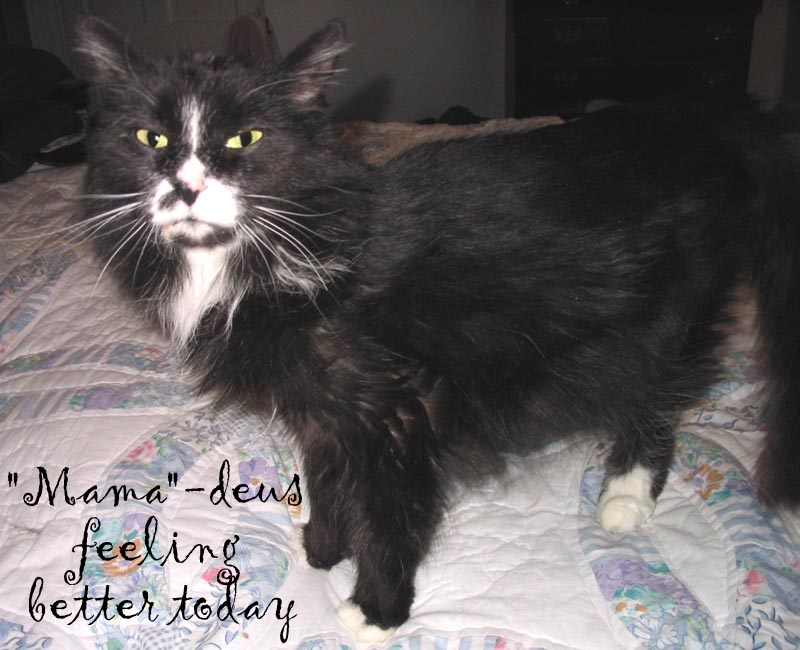 "Mama" is up and more alert today.
My sixth cat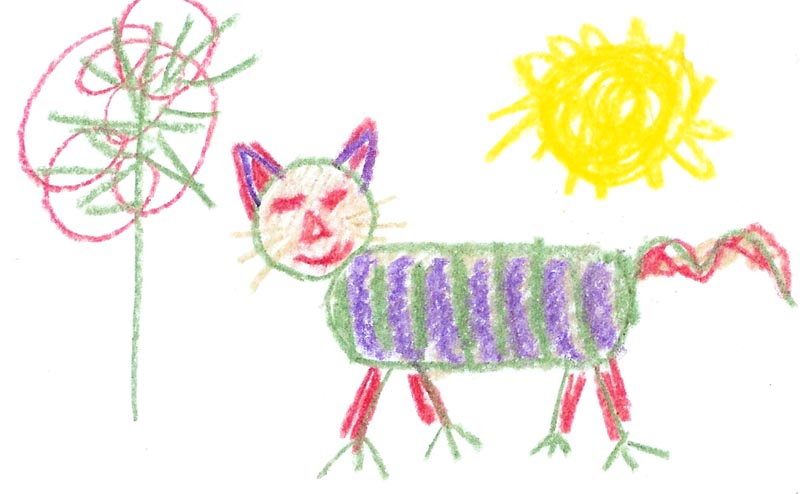 My dad is sure that I have 6 cats. Here is my 6th cat, dad.